Here's one for the special occasion... Northern Indian cuisine...
First time here for the both of us, it's the Mantra Restaurant and Bar tucked in the old wing of Sunway Pyramid (Our first Northern Indian experience was in Langkawi last year). If you sit by the window, it overlooks Sunway Lagoon Beach Resort. To me, it's not a greatest of views, but it's not too bad when it's at night. You will see that it makes a good background for the food photos in this entry.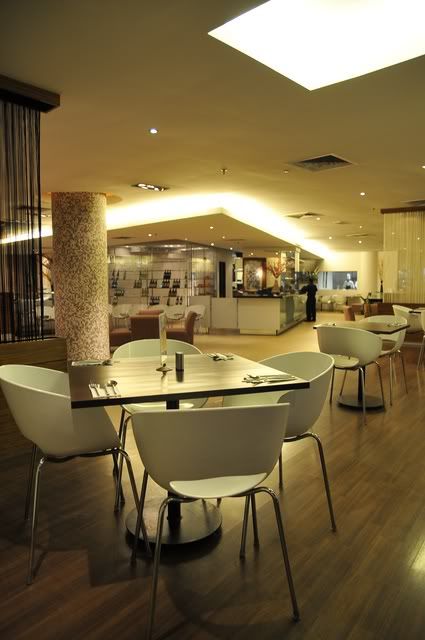 Very nice furnishing and has the perfect ambiance for an evening
Mango Lassi @ RM12
The mango lassi tasted alright, nothing to be praised about. It has a good balance of mango puree and yogurt.
Mumbai Tomato Broth
@ RM7.90
Creamy and tangy tomato broth made with fresh tomatoes
The tomato broth tastes pretty interesting. It's not something that we've taste before but in my opinion it tasted kinda like tom yam soup (the type with coconut). It's probably because of the Indian spices. I didn't expect a tomato soup to be spicy (
like chili spicy not spices spicy :-P
).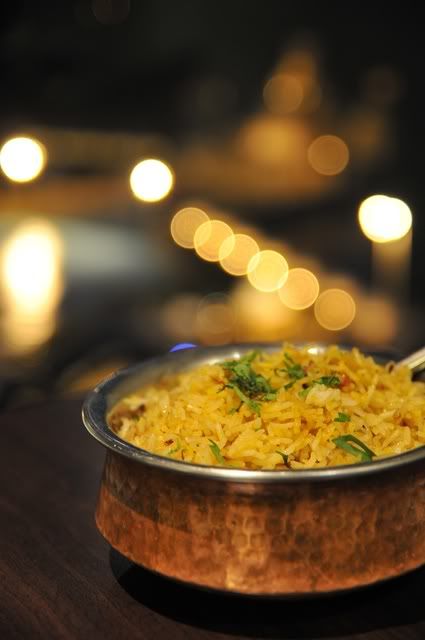 Plain Briyani
@ RM8.90
I have always enjoyed eating Indian briyani cooked with Basmati rice/long grain rice. Though it might look yummy in this photo. The taste wasn't what I'd expect from an Indian restaurant. I thought those that are found in our local
mamaks
were more flavorful. Quite a disappointment. Not to say it didn't taste good, but I have tasted better.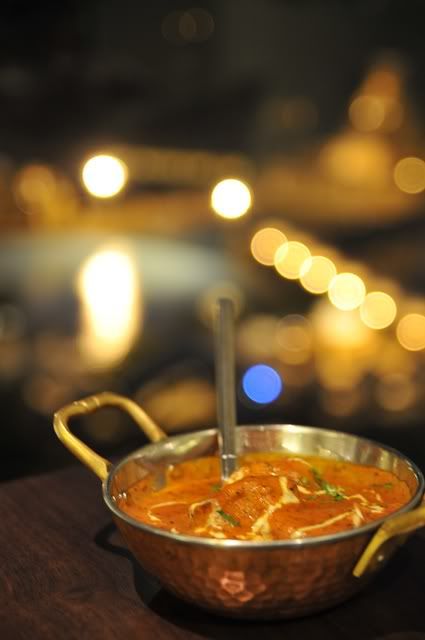 Butter Chicken
@ RM17.90
Exquisite tandoori-grilled chicken
,
simmered in satin smooth tomato gravy redolent of kassori methi
This was the highlight. It was the chef's recommendation and also according to Yiling, it's one of the those
must-try
dishes. And yes, this dish tastes great. Though it is called
butter
chicken, you can't really taste any hint of butter. I'd assume the Indian spices had taken over that flavor. The butter is probably responsible of making the sauce creamy.
Or
It doesn't even have butter? Cause in the description
butter
or anything dairy hasn't been mentioned. Could "butter" represent the
satin smooth
part of the description?
What do you think? From what i know, Northern Indian food does include a generous amount of dairy products in their dishes.
I do have
one complain...
The chicken meat wasn't tender. It was really tough. It wasn't grilled to perfection. Some points taken off here...
Malai Tikka
@ RM15.90
Boneless cubes of chicken, steeped in a marinade of royal cumin enriched cream, cheddar and a hint of fresh coriander, glazed in the tandoor
Oh the yummy Malai Tikka... I really enjoyed this grilled chicken dish. It was well marinated and it was grilled to perfection. Meat was tender and the marinate could be tasted deep into the meat. The meat has a slight hint of garlic. I think they spread some finely minced garlic across it before grilling. Dipped with the coriander sauce, it makes it this grilled chicken experience absolutely wonderful.
Garlic Naan @ RM4
This was another disappointment. Again I compare it with the local
mamak
. Local mamak naan is so much better than this. The naan was thin giving me the impression that it was going to be crispy or maybe fluffy. Unfortunately it was tough and had a much chewy texture than fluffy.
The overall experience wasn't too bad. Paired with a great ambiance and a the perfect company. The evening was wonderful. Give this place a try if you have not tried Northern Indian food.
So our final verdict was...
Calvin
: 6/10 (i feel like giving less...)
Yiling 6.5/10
I must add on that after dinner we felt pretty thirsty, so we suspect that quite a bit of ajinomoto was used in their cooking.
Mantra Restaurant and Bar
Lot G1-42, Sunway Pyramid
Tel: 03-74920488
[disclaimer: the opinions expressed here are based on my personal views, tastebuds and preference and may vary for others. please dont sue me, i dont have money. kthxbye.]