Since Yiling's been busy with work lately,
I'd
be guest blogging today...
My extended family (mom's side) decided to go for steamboat one day because my Aunt and her family came to visit from USA.
I have heard my mom saying about going to Gohtong Jaya for steamboat but I have never been there myself. To be honest... I wasn't aware that Gohtong Jaya was halfway up Genting Highlands.
So, here's my review on it.
Here's the name card
And directions here...
Here's the entrance to the restaurant...
There are several soup bases for the steamboat
1. Spicy & Non-spicy combination (RM18)
2. Sichuan Style Soup (RM18)
3. Soaked Vege with Fish Head (RM28)
4. Chong Qing Ma-la Chicken (RM38)
5. Chinese Herbal Soup (RM25)
6. Bamboo Fungus Chicken
(RM68)
7. Mushroom Soup
(RM68)
RM68 just for a soup base? Expect it to be pretty loaded...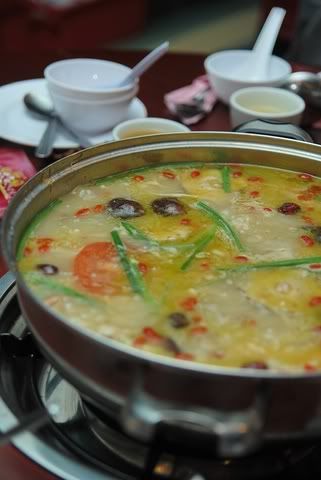 We selected the Mushroom soup base as it was recommended by my uncle and mom.
The steamboat came preloaded with cooked ingredients which could be eaten when served...
Inside the soup there were assortments of ingredients like "kampung chicken", spring onions, tomatoes, dates, wolfberries (gei zhi) and of course the highlight was the assortment of
fresh mushrooms
.
The sort of mushrooms included were
button mushrooms, straw mushrooms, golden mushrooms, black shiitake mushrooms, abalone mushrooms and black fungus
(it's in the funghi/mushroom category ~ i think)
The soup tastes absolutely amazing. It was really flavorful mainly because of the "kampung chicken" with all the soup ingredients. The soup base had been boiled for hours.
The sauce for the steamboat is pretty unique too. They use a special blend of "fu yu"/fermented beancurd with a hint of sesame oil. They also have their own chilli oil which is pretty spicy.
Usually you mix both the sauces for the perfect steamboat experience. 2 parts fuyu, 1 part chilli (2:1). Those who are afraid of it being too spicy try 3:1/4:1 (Pretty technical for just a sauce mix huh... what to do, I am an engineering student :-p)
I am sorry I don't have pictures of all other steamboat dishes. They're just like any other steamboat. You can order all sorts of seafood, all sorts of meat, all sort of balls (fish/prawn/salmon/cuttlefish) all sorts of vege and all sorts of noodles. With the price ranging from RM4-Rm18 per dish with fresh fish being charged according to weight/market price.
For the full list of the steamboat menu, click on the thumbnail below...
Among the dishes we ordered were cuttle fish, fish balls, chicken feet,
beef slice (very fresh and thinly sliced)
tofu, bamboo shoot,
more mushrooms
and a few green vegetables.
The total was RM284 for 2 tables.
Pretty reasonable for such a wonderful meal. But cost of getting up to Gohtong Jaya had not been added to the equation. Sigh... the increase of petrol prices...
That's all folks!
Cheers!
DZH Sichuan Restaurant
gohtong sports center
jalan jati 2, gohtong jaya,
69000 genting highlands,
pahang.
[disclaimer: the opinions expressed here are based on my personal views, tastebuds and preference and may vary for others. please dont sue me, i dont have money. kthxbye.]